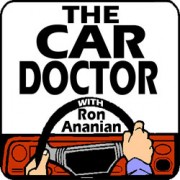 The crew loves to race on the weekends but sometimes we are stuck in the shop doing other things that need to be done. Either way, our day goes much easier if we have music playing but that changes when our favorite radio show hits the airwaves on Saturday and Sunday. The Car Doctor with Ron Ananian is a very entertaining car repair show, especially when you love cars as we do. Ron answers questions from callers and covers all aspects of automobile repair. The difference with Ron, and what makes the show entertaining, is the fact that Ron does this without a computer knowledge base in front of him. With over 20 years experience, it seems like Rons got a PC in his head. This really keeps the show flowing smoothly and it becomes really entertaining when you know a caller is trying to stump him with a question and without batting an eye, Ron answers the question.
As well as covering auto repair, Ron does great interviews with qualified people in the automobile field, from a head honcho at General Motors to his latest interview with NHRA funny car driver Jack Beckman, Rons got the field covered.
You can hear The Car Doctor live on WOR AM Radio on Saturdays in NY from 3-4 PM EST and Sunday Mornings from 10-11 AM EST.  Worldwide, The Car Doctor is heard on over 160 syndicated stations, here is the list.
No related posts.