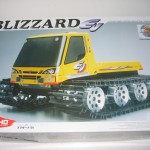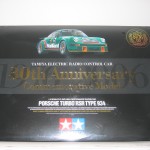 One of our our crew members is selling 2 great RC cars from their collection. Here is your chance to pick up 2 great classic Radio Control vehicles. The first one is a
Kyosho Electric EV Blizzard snowcat.  New in box, it features a single 540 motor. Kyosho is only selling the RTR Blizzard (try finding one one of these electric blizzards) that has 2 small 380 motors and dual ESC's. Very expensive to upgrade that kind of set up. This one uses a 540 motor (included) and single ESC (which you have to add with the other radio gear). Also, the RTR's are already painted. With the clear body in this blizzard, you can paint it like you want.
The other car is a factory sealed Tamiya 30th anniversary RSR Porsche which was bought new upon release, bagged, and stored. It has not seen daylight until these pictures were taken. Box is a 9/10 as a cople of the corners have slight bending. Email for more pics.
The Tamiya is being offered for 598.00 SOLD!. The Kyosho Blizzard is offered at 450 (BLIZZARD has been sold). Both will be well wrapped and shipped in new boxes with insurance. Adult signature required upon UPS delivery.
Keep checking back as we have other kits that will be offered!…
write us for payment details…  supportATfastharry.com
Related posts: