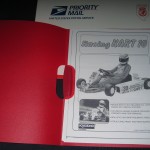 Manual copies are printed on HP 24 lb. 97 brightness paper and put in binder. Cost is 20 dollars plus 3.95 shipping, 50 USA states only.
Kyosho Kart Manual (second generation with movable driver)
Manuals are also available for other cars we own. Please write us for details.
No related posts.