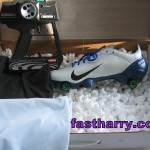 This is a UGO VAPOR TD, Kyosho mini-Z powered, handmade by NIKE Labs, one of 10 in the world, Super Limited, Remote Control Sneaker.
We purchased this in 2003 from the original owner who won the Nike Superbowl Sweepstakes that same year, so it has been in our possession for almost its entire lifespan.
The sneaker itself is a hard shell and looks to be made out of some sort of resin, and the laces are real. It has imperfections, as any handmade product would have.  After its 3 foot maiden journey (yes, it really works!), it got packed into the storage sack, put in the box,and hasn't seen daylight until these pics were taken a few weeks ago.
We have had many people email us about this unique piece, and one person informed us that the 10 sneakers were built by Jamie Hyneman from Mythbusters fame for Nike Labs.
No related posts.