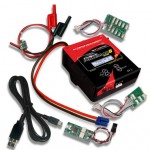 We think they just might be! Our racing team has started looking at upgrading our racing equipment and the first area we want to address is the Lipo charging department. The past couple of years have seen an explosion in lipo battery technology with increased C rating charging capabilities and increased battery capacities. Lipo chargers that were manufactured a mere two years ago are outdated. With brushless motor electric RC racing exploding like never before even the average RC hobbyist and racer needs a lipo charger that is capable of charging multiple batteries at a high enough rate so you can make those heat races in time or enjoy an afternoon of bashing your monster truck. With RC cars like the Traxxas 100 mph XO-1 and their new funny car coming out, 1/5 scale electric cars from HPI, and a slew of stuff from other companies as well, RC racers are in for a treat when it comes to speed and power in a RC vehicle. And it is only going to get better in the future. New battery technology, new battery chemistry, increased capacities, higher power output and charging rates and lower prices are going to be the future of RC cars and you are going to need a lipo charger that not only meets these needs today but in the future as well.
We love to do research and after spending more than a few days reading RC car and helicopter forums, talking to friends and racers and speaking directly to customer service reps selling the wide selection of chargers available we have to be honest. Revolectrix, a Singapore USA company whose slogan is "leading innovation" hits the mark dead on in our opinion. So many factors, from safety in charging and overall charging technology to a USA support line that someone actually answers who knows what the hell he is talking about has us thinking about their PowerLab (PL6 and PL8) series of chargers.
Listen, Here is the bottom line. High powered chargers have always been something RC car guys didn't worry about and the RC flying guys always have. But in this day and age, the car guy needs the power of a high end charger too. A Lipo charger is one of the most essential pieces of RC gear you can own and with only a few dollars separating below average chargers to high quality chargers, it is important to know where to spend your dollars.
Stayed tuned to fastharry.com and watch this space for a full review. We are gonna put one to the test. You know….the how's , why's and what fors in terms and words you can understand. We plan to show you more than the specs. We want to show you how the charger operates in actual racing conditions at the club level where so many racers are involved in the RC hobby!
In the meantime, head over to http://www.revolectrix.com and check them out.
Related posts:
Review: We Found The Perfect Little RC Pit Box Radio for Thirty Bucks..Great for Emergencies, Fishing, Hobbies, etc. Coolest Little Radio on the Planet Hey Everyone…One of our...